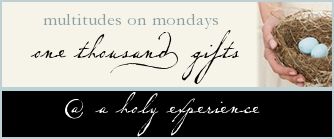 Thank you to Ann Voskamp for her 7 Gifts: Good & Perfect Booklet in her inspirational blog, A Holy Experience.
"Mommy, you said there'll be no tears in heaven. What about happy tears?"
I am thankful for this little girl who teaches me how to cry freely and laugh heartily.
"Be joyful always; pray continually; give thanks in all circumstances, for this is God's will for you in Christ Jesus." 1 Thessalonians 5:16-18